San fermin - san fermin
Since the 14th century, local locos (also known as Mozos) have run with the bulls. It all started when cattle herders "ran with the bulls" down narrow streets on the way to the markets. Mix in some Spanish bravado and a dose of showmanship, and the runs were transformed into a competition where herders would try to outrun the bulls and exhibit daring acts of bravery. The first official event occurred in 1591 on the 7th of July, and the rest, as they say, is history.
Early Bird Rates for once in a lifetime opportunity for San Fermin by Luxury Train. Only 14 Rooms on the train! Suitable for most ages
Over many years the mainly religious festival of San Fermín was diluted by music, dancing, bullfights and markets such that the Pamplona Council proposed that the whole event be moved to July 7th when the weather is far more conducive to such a celebration. To this day San Fermin remains a fixed date every year with the first bullrun at 8am on July 7th and the last at the same time on July 14th.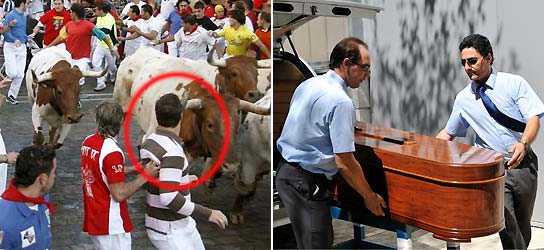 villageventures.info